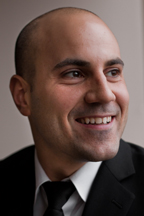 Sean Pugliese, B. Comm (Hons), CFA
Portfolio Manager
(905) 383-8444
Email: sean@wickhaminvestments.com
Sean is capable of servicing private clients (individual investors), financial professionals and institutional investors. With private clients, the focus is on wealth management, an integration of investment management and retirement planning. Sean uses a blend of active and passive strategies to evolve and adapt to changing market conditions and clients' unique needs, goals and risk profiles. He has a two tiered investment philosophy. He begins with a top down macro approach to identify appropriate asset classes and risk factors. He then couples this with a bottom up fundamental approach for selecting individual securities. He focuses in the use of Exchange Traded Funds (ETF's), and individual equity and fixed income securities. Sean recognizes that investing can be complex. He believes client education, setting as well as managing expectations are the cornerstones of a successful client relationship. He is partnered with Allan Meyer, Vice-President and Portfolio Manager at Wickham Investment Counsel.
Sean earned the CFA® (Chartered Financial Analyst®) designation in 2014. He graduated from the DeGroote School of Business at McMaster University with an Honours Commerce Degree, specialization in Finance, and a Minor in Economics. Prior to joining Wickham Investment Counsel, Sean was employed with a major Canadian bank.
Sean appears periodically in the media and is involved in the local community and charitable organizations such as 'Movember'. His interests include networking, fishing, camping, exercise, and playing competitive and recreational sports such as touch football, hockey, golf and soccer.